Your Life Matters - Workshop - Warren
Event Details
Thursday, 12 Sep 2019
9.30am - 3.00pm
Warren Sporting and Cultural Centre
Tom Walker
0418255317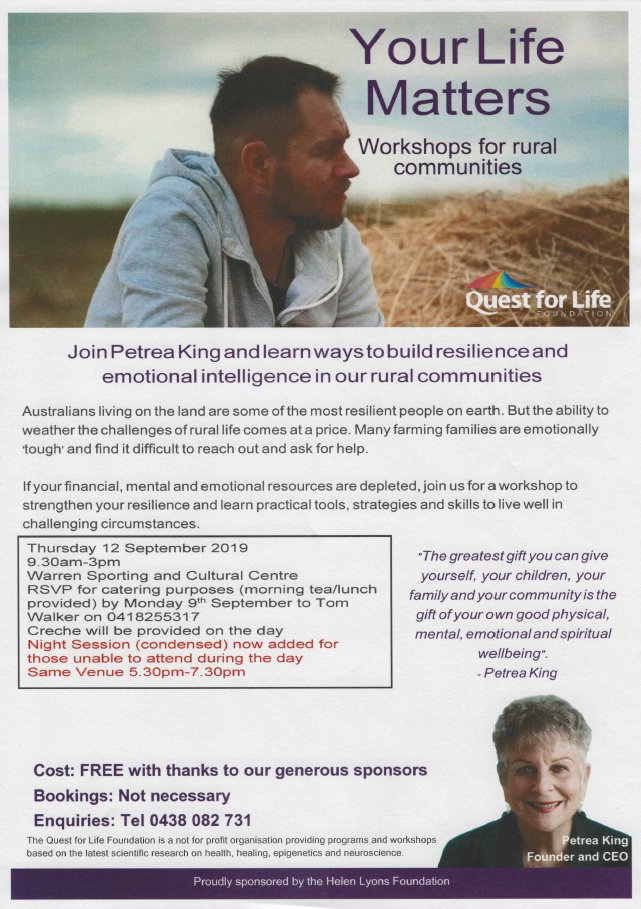 Join Petrea King and learn ways to build resilience and emotional intelligence in our rural communities.
Australians living on the land are some of the most resilient people on earth. But the ability to weather the challenges of rural life comes at a price. Many farming families are emotionally 'tough' and find it difficult to reach out and ask for help.
If your financial, mental and emotional resources are depleted, join us for a workshop to strengthen your resilience and learn practical tools, strategies and skills to live well in challenging circumstances.
"The greatest gift you can give yourself, your children, your family and your community is the gift of your own good physical, mental, emotional and spiritual wellbeing".
- Petrea King
Cost: Free of charge thanks to our generous sponsor Helen Lyons Foundation
Morning session: 9.30am-3pm Evening session: 5.30-7.30pm
RSVP by 9 September for catering purposes
Tom Walker: Tel 0418 255317
Download Event Flyer