Things to see and do
Top Ten things to see and do
1. Window on the Wetla
nd Centre and Bird Watching at Tiger Bay Wetlands
Located on the outskirts of Warren on the Coonamble Road is the Tiger Bay Wetlands and the WoW Centre. View the art gallery and enjoy information on the region's environment, culture and heritage. Explore the next to the WoW Centre the Tiger Bay Wetlands, these are a natural overflow of the Macquarie River system, and home to numerous species of birds and aquatic flora. For more information please phone 02 6847 3720.
2. Aboriginal Heritage at the Beemunnel
The Beemunnel is a significant cultural site where Aboriginal families lived in the late 19th and early 20th centuries. Walk the interpretation trail located 1.5km past The Window on the Wetlands centre on the Oxley Highway.
3. Warren Museum and Art Gallery
History has a home in Warren - a magnificently restored heritage building at 142 Dubbo Street. Immerse yourself in the story of Warren and district in a state-of-the-art museum and gallery.
Opening times are: Wednesday to Sunday inclusive, 10:00am to 4:00pm
For up-to-date information on opening hours and holiday closures visit https://www.thewam.com.au or phone: 0408 080 383.
4. Shopping
Stroll down Dubbo Street in Warren to discover its range of gifts, home wares, jewelry and fashion items or perhaps grab a coffee and a bite to eat at one of the cafes.
5. Flora and Fauna at the Macquarie Marshes
One of the largest semi-permanent wetlands in southeastern Australia, the Macquarie Marshes, is located around 100km north of Warren. Containing extensive areas of reed, cumbungi, river red gum, coolibah and water couch grasslands, the Marshes support over 200 bird species.
The Macquarie Marshes Nature Reserve is managed by the NSW National Parks and Wildlife Service (NPWS). The remaining 90% is private land. Publicly accessible areas include views of the reed beds at Monkeygar Creek and the viewing platform at Big Terrigal Creek both on Gibson Way.
From Warren, take the road to Carinda for just over 100km then turn right at the telephone tower into Gibson Way. Gibson Way is unsealed and not suitable for vehicles other than 4WD after rain. Please get local advice before driving as there are occasions where water crosses the road and makes it impassable even for a 4WD.
NPWS have rangers available to take visitors on tours on an as needed basis. Please contact 02 6843 4011. RiverSmart offer day trips to the Macquarie Marshes each year in spring. The tours depart from Dubbo as well as Warren. Please contact 1800 748 379.
Please refer to the flyer for more information.
Macquarie Marshes Guided Tours
A variety of accommodation is available close to the Macquarie Marshes at Willie Retreat. Please contact 02 6824 4361.
6. Golf
Visit the Warren Golf Club on the Oxley Highway and play on a mixture of grass and sand greens. The 18-hole golf course has beautiful vistas of the Gunningbar Creek.
7. Wine Tasting
Tilley's Wines is located just 1km from the centre of Warren on Charles and Christine Tilley's property, Darbalara. To arrange a tasting experience, please contact 0419 248 690.
8. Fishing
Warren has numerous fishing spots all within 5km of town.
Oxley Park Wharf: Located at Oxley Park on Oxley Highway.
Bob Christensen Reserve / Bryan Egan Weir: follow the Oxley Highway out of Warren towards Gilgandra, turn left at Industrial Access Road and continue for 1.6km. There is a boat ramp and picnic tables at this site.
The Warren Weir Reserve: Follow the Wambianna Road 4.3km from Warren. The reserve is on the right hand side.
Quinines Reserve: Follow the Carinda Road 4.6km from Warren. The reserve is on the right hand side.
9. Country Pubs
For warm hospitality and an icy cold beer, be sure to visit the Nevertire Hotel and Collie Hotel. The Nevertire Hotel is a fifteen-minute drive from Warren and the Collie Hotel is a thirty-minute drive from Warren.
10. Heritage Walking Tour
The Warren Historical and Family History Society offers free walking tours by appointment. Please contact 02 6847 6665.
Warren Top 5 Things to See and Do and Events
So, it's about time you saw Warren. Do something different, and go beyond. You won't regret it.
Group agricultural tours
Regional Platters is an agricultural guide designed for group tours to connect to producers in the central west region.
Flip through the guide, explore the products and plan your group's visit to the region by contacting the producers directly or liaising with a tour operator. Look out for our local producers in the guide including Rosies Honey Mustard www.rosies.net.au and Gourmet Goat Lady www.thegourmetgoatlady.com.au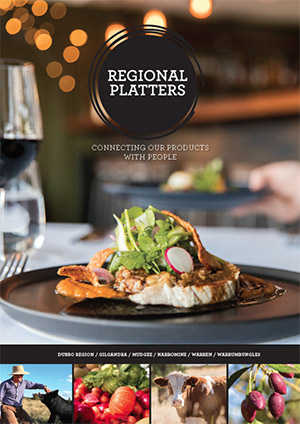 Download a copy of the Regional Platters Guide here