Women of Warren Shire - Helen Murray
20 July 2021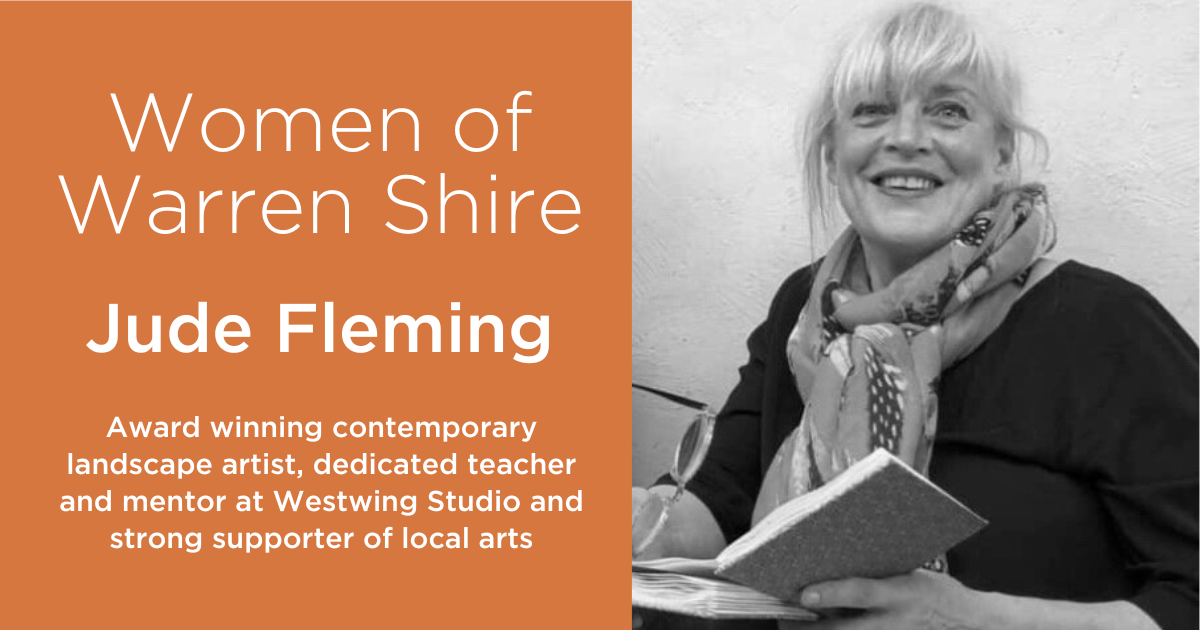 Helen Murray is a Collie local who is dedicated to the community. She is involved in the Country Women's Association (CWA), Rural Fire Service (RFS) and leads the Collie ANZAC Day Service, just to mention a few. Helen is most renowned for her support and guidance to the younger women in Warren Shire.
We spoke to Helen to hear about her commitment to helping the Collie community and her passion for gardening.
A usual morning looks like?
I like to rise early and then the weather decides what I do for the day.
I'm most proud about?
My family, how they have grown up and made a life of their own with partners and children. I adore our grandchildren and try to be part of their formative years.
Favourite place in Warren Shire?
Collie would have to be my favourite place. Is it so quiet and we can live in our own backyard without seeing anyone.
A lot of improvements have been made to our village in recent years, for which we're very appreciative.
On the weekend you can find me?
In the garden.
3 words that sum up living in Warren Shire?
A listening Shire.
Helen's Collie journey…
What was your journey to Warren Shire?
I grew up at Curban on the family farm, I rode my bike to primary school and then to meet the bus to Gilgandra for high school. For pocket money, I raised chickens and turkeys and would also charge 2 shillings a garden bed to weed stinging nettles.
Having worked as a Governess in Bourke for six months, I then returned to Gilgandra to work in a Stock and Station Agents until I married Ron.
It was then we moved to Collie, and I settled into life as a farmer's wife, and a jack of all trades. In 1977 we built our home, which we still live in, and that is when my love of gardening took over. Gardening is a real stress reliever!
After our two sons, John and Robert, left school, I then helped Ron more in the share-farming and contracting business. I've always loved the outdoors, so nothing was a problem.
Can you share more about your involvement in the Warren Shire community?
John and Robert both attended Collie primary school, a great little family-oriented school. I was very involved in the P&C Association and did a term as Secretary. During this time, the School Centenary was held (1978), which was a busy but rewarding time for the school and the district. Sadly, the school had to close in 2000 for the lack of children.
Since the school closure, ANZAC Day Services have become an integral part of our Collie community and we now boast a great little gathering for ANZAC Day. I have had the honour of facilitating the Collie Service for around 15 years and I love everyone to feel included.
I'm currently President of the Collie RFS but in the past I have been all three officers (President, Secretary and Treasurer) at the one time. I've also served as a truck driver.
The Brigade has had a new lease of life injected over the last few months so I hope it will be here forever.
My passion for flowers, particularly flower arranging, has led me to have the privilege of judging flowers at the Warren Show for several years. It's such a wonderful opportunity to work with the girls at show time and give some tips on flowers and gardening. I've also had the chance to judge at several events across NSW and have thoroughly enjoyed my time working with the stewards involved at each venue.
The Collie CWA will soon mark 100 years. As Secretary, what makes you proud about the CWA's impact on the community over this time?
I joined CWA not long after I moved to Collie and have enjoyed meeting new people and being involved in such a great organisation. I have been Secretary for a number of years and also held the position of President and Treasurer, Handicraft Officer and International Officer over the years.
Originally formed to help women and children in isolated areas, the CWA now helps women and children in all areas and has a strong voice in Government. Our Collie Branch was formed in 1925, so we will be celebrating 100 years in 2025. It's an amazing achievement, and we still have minutes and memorabilia dating back to the early times.
Collie CWA has always put its hand up to help anyone in need. In earlier times, the branch helped with the war efforts and there have been many functions over the years to raise funds such as dances, wool days, card days and the list goes on...
During the recent drought, we packed donated food into hampers, along with vouchers, which we delivered throughout the community. We're a small but dedicated team, and it wouldn't be a branch without the members. Our Hall is important to the work we do, and we rely a great deal on grant funding to keep it well maintained. It's been a hard few years, with the drought and COVID-19, so we haven't been able to arrange fundraisers like we used to.
What would you like people to know about Collie CWA?
Everyone is welcome to join the CWA, it is a great way to meet people and socialise in the community.
You are known as a 'kind guide' to young women, how do you support young women across the Shire?
I have had the pleasure of bringing the younger ladies of the area together to form an Evening Branch of CWA. I hope and trust, they will go from strength to strength and know how important this organisation and its venue is in our community.
To nominate a Warren Shire woman to be featured in this series, email media@warren.nsw.gov.au