Women of Warren Shire - Frances Evans
15 June 2021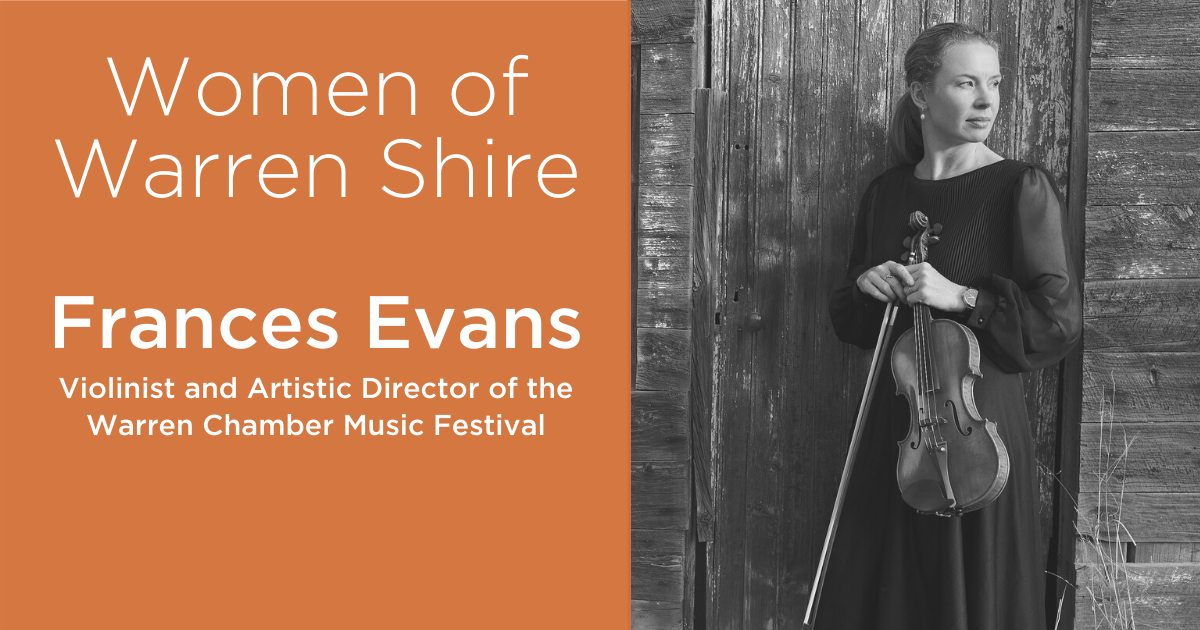 Frances Evans is a renowned violinist and the driving force behind this year's inaugural Warren Chamber Music Festival. She is also a Warren local, growing up in the Shire, and is back to raise her young family on the farm.
Frances is our very first Women of Warren Shire profile. We spoke to Frances to hear about her love of music, the amazing experiences it has given her, and the joy of being back in Warren Shire.
A usual morning looks like…
Rise and shine early to my baby girl singing out for me. It is then time to brew a fresh pot of coffee or drink the one my husband has already made for me! Then it is getting the children and I dressed. It's either books in front of the fire, some music, farm jobs or pre-school drop off for my eldest.
I'm most proud about?
My beautiful growing family. Our family time is so precious to all of us. I'm also proud of what I'm giving back to the community with my music. My parents have made this happen.
Fondest memory of growing up in Warren?
Probably farm life. Growing up on Eurobla and attending the local Sunday school was a lovely bush upbringing.
Favourite place in Warren Shire?
Love Collie. I went to school there!
On the weekend you can find me…
Playing with the kids or cutting galvanised burr!
3 words that sum up living in Warren Shire?
Freedom. Pace. Family.
Frances' journey with music
How did your passion for music start?
My Mum is a beautiful Soprano. ALL my grandparents were musicians in their own right, and also my great grandparents.
My Mum and Dad encouraged me to learn from a young age. I guess I enjoyed the challenge and liked performing, it still gives me a buzz. When you are encouraged and acknowledged in certain areas, you usually follow those paths.
What was your journey after leaving Warren?
I completed secondary school at Dubbo Christian School and enjoyed having lead roles in musicals. They are my fondest memories of school. I then ran my own violin studio growing it from just 12 wonderful students to 72.
I needed an injection of inspiration and education so moved to Canberra to study my Bachelor of Music at the Australian National University School of Music. Whilst there, I received scholarships and did well in some violin competitions. It was an encouraging space to grow and I was able to take advantage of some great chamber music experiences. I auditioned for the Australian Youth Orchestra and was accepted into the entire year's program. It was unforgettable. I finally had the chance to play full symphonic works like Beethoven and Mahler Symphonies. It was also my first opportunity to play with international superstar soloists. This is where I first came into contact with the late Richard Gill OAM, Australia's most formidable and passionate music educator.
After undergrad studies, it was post-grad that led me to Tasmania and more opportunities to play chamber and orchestral music with wonderful Australian and international musicians. Gratefully, another scholarship followed, and I enjoyed building relationships with performers from around the nation.
I completed studies in Education and took a posting in Dubbo and Melbourne. A career highlight, and challenge, was being Director of Music at Caroline Chisholm Catholic College. With an amazing team of teachers, we transformed music learning for the students. It was so much fun.
What have been some of your highlights as a Violinist?
Having the opportunity to perform particular works or repertoire with professional musicians and former classmates will stay with me forever. Seven of the nine Beethoven Symphonies, Mahler Symphonies, Rachmaninov's Symphonic Dances, playing in the orchestra for Sibelius, Rachmaninov, Tchaikovsky, Grieg and Dvorak concertos, Appalachian Spring (thanks to the Warren Chamber Music Festival, now performed twice!), Schoenberg's Verklarte Nacht and just countless more magical chamber music moments.
When in Canberra I performed in a String Quartet and various ensembles with my teachers and mentors Tor Fromhyr, David Periera and Maz McBride. This was fun. It usually ended in great food and wine. We regularly performed for visiting international dignitaries at Parliament House. I've played for royalty!
Whilst at university, I was invited by the then Governor-General, Dame Quentin Bryce AD, CVO, to perform at her residence in Yarralumla. She said she enjoyed my Violin Sonata in E minor by Edward Elgar – much to my relief.
What brought you back to Warren Shire?
Family is all to me. So when Nick, my wonderful husband, suggested we 'head west' to have a family and move back home to Eurobla, I think I screamed and cried. He was already performing regularly as a Clarinettist with the Melbourne Symphony Orchestra and Orchestra Victoria, so it did come with sacrifices. But we have never, ever looked back.
This year you launched the inaugural Warren Chamber Music Festival, can you share more about the inspiration behind the festival and its success?
The inspiration came from my two dear friends Dr John Burke and Phil Leman. They thought with my experiences and passion we could all combine forces to make something happen. We certainly did that!
After considerable committee meetings with our two additional committee members, Marieanne Noonan and Rod Sandell, it was simply getting in touch with the right people, selecting some music…and a few other odd jobs I guess.
How are you bringing your passion for music and education to the Warren Shire community?
I love to perform because it gives me joy and it brings great joy to others. If I can help other families to experience all the wonders, challenges, happiness and benefits of music-making, then I will continue to bring whatever I can to make that happen.
So many people now understand the scientific and social benefits of learning and making music. I will continue to teach music in the Warren Shire for many, many years to come.
To nominate a Warren Shire woman to be featured in this series, email media@warren.nsw.gov.au