Warren Skate Park Project
07 May 2019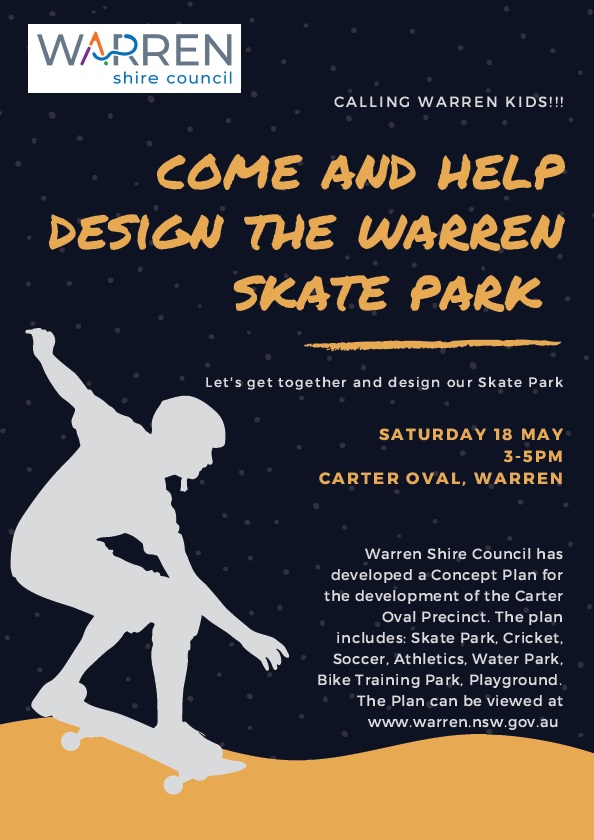 Warren Shire Council as part of the Carter Oval Youth and Sport precinct has commenced the research and design of a skate park facility. Council has employed Oasis Skate Parks P/L a Ballina based design and skate park construction company to meet with the local community and design a skate park that will be the envy of other towns around the Central West.

Mayor Milton Quigley told us that the Warren Community has been seeking a skate park for many years and although Council was supportive of the project in the past, a location could not be agreed upon with the community members at that time. Council as part of its redesign of Carter Oval to become a youth precinct that will support families through to young adults includes the skate park in its concept design. The Oasis company has extensive experience in skate park design and recently completed parks at Blayney and Oberon.
The first stage in the skate park design is to have local input into what the youth want to see in the design, to allow the park to be used for skate boards, scooters and possibly bikes, and to ensure that the design will allow for the youth to grow in experience as they master the various design features Mayor Quigley advised. We would like as many people to attend and meet the consultant on Saturday 18th May between 3 and 5pm in Carter Oval and take to opportunity to discuss the skate park but also the whole of the Carter Oval concept.
Council advised that the design of the skate park is the initial step in seeking grant funding from the State and Federal Governments. It is estimated that the skate park section will cost around $400,000 and Council needs to seek grant funds as well as community funding to complete the project. Council is hoping that the next round (if one becomes available) of the Building Better Community Grants will allow for some of the funding to be allocated towards the skate park.
Mayor Quigley said, that although we are planning and designing the skate park, it is to have it shovel ready to submit under a grant program and hopefully we will be successful. Council has moved to strategically planning its general works and village upgrades; to be successful in the competition for grant funding. Our staff and Councillors have been successful recently as we have taken the time to develop village plans, to design park areas and look at footpath connections. We are very positive about this skate park and with the community input into the design, we can see that this will also be successful.
Skate Park Planning Day